BRANCHING OUT
with Donna Greenberg, Lindly Haunani and Anke Humpert
September 22 - 24, 2017
South Shore Harbour Resort, League City, Texas
Members: $300
Non-Members: $325
For our retreat group, South Shore Harbour Resort has a special rate for their recently-renovated hotel rooms: $119 + 12%, tax per night, single or double occupancy.
Please join us September 22 - 24 at South Shore Harbour Resort for the 2017 Lone Star Retreat: "Branching Out." Since the retreat is 3 full days this year, you will enjoy spending an entire day learning from each of our three incredible teachers starting at 9:00 AM on Friday, September 22.
Please use the following links to make your payments. You can use your PayPal account or a credit card.
Please click here to view our REFUND POLICY.
DEPOSIT - $100 (balance due September 1, 2017)

BALANCE MEMBERS - $200 (balance due September 1, 2017)

BALANCE NON-MEMBERS - $225 (balance due September 1, 2017)

FULL PAYMENT MEMBERS - $300

FULL PAYMENT NON-MEMBERS - $325


This delightful sculpture, suitable for wall hanging or table top, resembles a miniature coral reef with wonderful little cups and pockets to catch stray pearls, glass or shells. About 4 inches in size gives the students a lot of space to create interesting textures and reef forms, allowing the imagination to freely roam. Donna will share her hand sculpting methods in class and students will also learn to mix and layer beautiful colors with Donna's polymer 'glaze' methods to achieve depth and dimension. As a finishing touch we will embed natural pearls, pebbles or tiny shells to add even more charm and interest.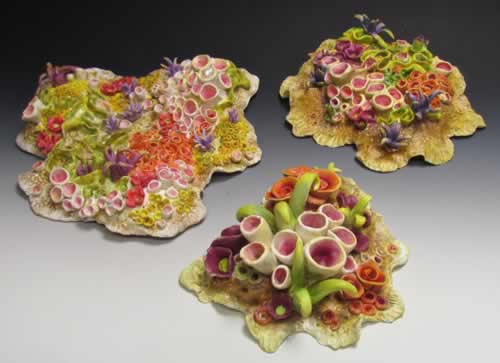 Donna Greenberg - Coral Reef Sculpture
The glorious range of softer muted colors found in nature will provide the inspirational starting point while you learn how to create an intentional, impactful color scheme. Five useful strategies to enhance harmony will be presented as you prepare a set of colors destined to become a collaged brooch or pendant. Lindly will share her tips for creating a stripe blend sheet that is appropriately scaled for making smaller pieces and includes dramatic contrasts. Then you will learn how to make four different color coordinated patterns: soft Ikat, stripes, fractured color blocking and a circular mokume gane. Lindly will then demonstrate how to sequence and audition your elements to create a successful harmonious balance in your design while using multiple patterns.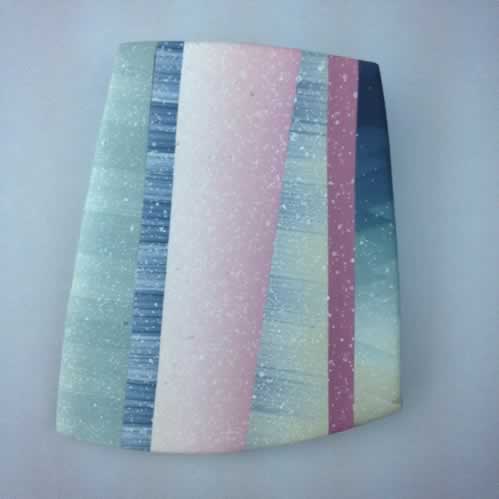 Lindly Haunani - Sagacious Sumptuous Color: Inspired by Nature
Learn Anke's technique for designing and making her "hungry fungus" eye-catching necklace! This lightweight hollow pendant is sure to get everyone asking "How did you do that?" In this class Anke guides you through her design process while providing the encouragement to experiment and play with your own ideas to create a pendant that reflects your creativity. In addition, you will learn how to:
mix and match custom colors
create intriguing mysterious eye catchers
construct hollow lentil beads (with Anke's secret tool!)
distress the surface of your beads
assemble your necklace
use paints to enhance your design
Anke includes lots of tips, tricks and ideas throughout each step! This technique is playful and organic at the same time. Imagine all the possibilities!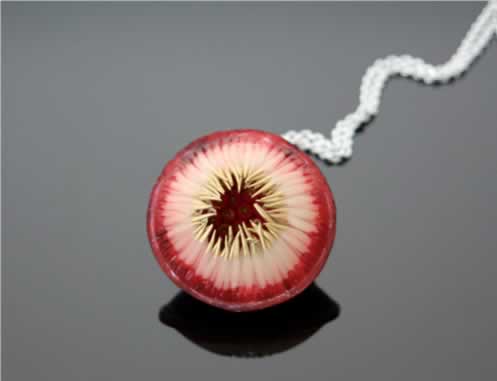 Anke Humpert - Hungry Fungus Pendant