Chili Pepper Earrings
Deb Hart
Saturday July 15, 2017
1:00 - 3:30 PM
Montrose Texas Art Supply Upstairs Classroom
2001 Montrose Blvd, Houston TX 77006
Please join us at our next Guild meeting where the talented Deb Hart will be demonstrating her unique chili pepper earrings. These earrings are can be fashioned in almost any size and are so versatile in color and style.
Deb will first take us through a simple skinner blend, and will then demonstrate some simple canes for use in decorating your chili peppers. She will also have completed canes available, in case caning's not your thing. She will then take you through shaping and adorning your chili peppers and finishing them with ear wires. Deb will provide a basic handout. She will also have beautiful color booklet that goes into greater detail and options for sale for $5.00.
If you would like to work along, please bring your basic tool kit, including work surface, clay blade, acrylic rod, and ruler. You will also need an Xacto knife, a sculpting tool, and clay in at least two colors for making a Skinner blend. The Guild will provide ear wires and eye pins for finishing.
Don't miss this opportunity to learn how to create one of the center pieces of Deb's signature Southwestern style! See you all there!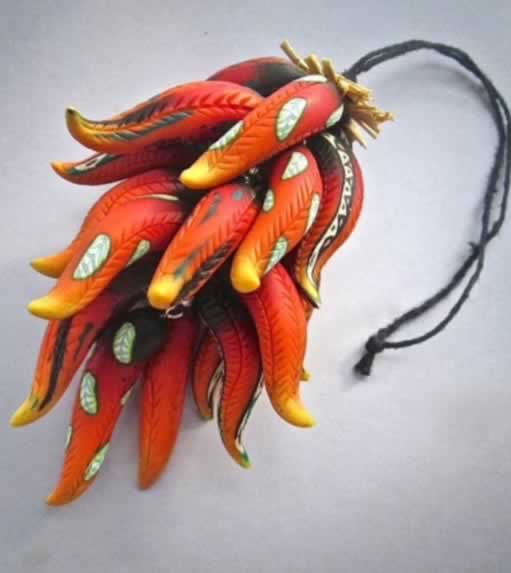 We would also like to remind all of our members that it's time for the Lone Star Retreat bead jar! At every retreat we hold a raffle for a jar full of clay beads donated to the jar by our members. So please bring your "orphan" beads (or cabochons or pendents) to place in our jar. We all have beads that we won't have a chance to use. This way you can them a chance to become a part of another artist's creations!
WHERE AND WHEN
We meet on the third Saturday of each month from 1:00 PM to 3:30 PM. Each meeting includes Show & Tell and a Demonstration or Hands-On Program.
Our permanent meeting place is the upstairs classroom at the Montrose Texas Art Supply at 2001 Montrose Blvd, Houston TX 77006
Texas Art Supply has asked that our members park in the warehouse parking lot across the street from the main store, or in the periphery of the main parking lot, so that we don't interfere with customer parking. Please be sure to comply with this. They are being very generous in providing us with a meeting place, and we want to keep them happy!