February meeting:
Wavy Colors
Lanette Holland
Saturday, February 16, 2019
1:00 to 3:30 pm
Please join us at out next Guild meeting where Lanette Holland will demonstrate making wav patterened components using multi-colored Skinner Blends. These lovely, conponents can be used in making earrings, pendants, or whatever ou like to make.

If you would like to work along with Lanette, bring the following:

-Polymer clay - about 1 oz each of 6 colors (mix of 2-3 medium or dark colors and 3-4 light colors that will go together well in a blend. Example: yellow burgundy, violet, orange, red, beige.
-Pasta machine
-Work surface
-Wavy (or Ripple blade)
-Straight blade - stiff one recommended but a flexible on will work okay too.
-Roller or brayer
-Paper - your favorite for smothing seams
-Shape cutters if you want to cut some shaes from your wavy blend there at the demo
-Someting to take your blend sheet home in.

These little design gems iwll make a wonderful addition to your artistic repertoire! We hope to see you all there!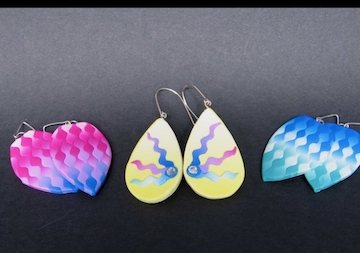 REGULAR MEETINGS - WHERE AND WHEN
We meet on the third Saturday of each month from 1:00 PM to 3:30 PM. Each meeting includes Show & Tell and a Demonstration or Hands-On Program.
Our permanent meeting place is the upstairs classroom at the Montrose Texas Art Supply at 2001 Montrose Blvd, Houston TX 77006
Texas Art Supply has asked that our members park in the warehouse parking lot across the street from the main store, or in the periphery of the main parking lot, so that we don't interfere with customer parking. Please be sure to comply with this. They are being very generous in providing us with a meeting place, and we want to keep them happy!