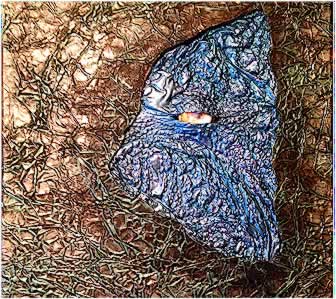 Please join us for our Guild meeting on February 17! Jim Paras will be discussing the many places that great texture sheets can be found or created besides the art supply stores. He will be giving out textured wallpaper samples as well as other things that can be used as texture sheets.
You are encouraged to bring your own texture sheets to show the range of possibilities and for those who bring conditioned polymer clay sheets (Sculpey Bake & Bend for flexibility, but regular scrap clay will work) we will be making copies of texture sheets.
If you would like to make texture sheets to take home, please bring your basic tool kit, including conditioned clay, pasta machine, work surface, clay blade, and acrylic roller.
Also, don't forget to bring your excess supplies or things you don't use anymore for the swap table. Jim will be bringing dominoes (regular and tiny) and tiny glass bottles.
This should be great fun! We hope to see you all there.


REGULAR MEETINGS - WHERE AND WHEN
We meet on the third Saturday of each month from 1:00 PM to 3:30 PM. Each meeting includes Show & Tell and a Demonstration or Hands-On Program.
Our permanent meeting place is the upstairs classroom at the Montrose Texas Art Supply at 2001 Montrose Blvd, Houston TX 77006
Texas Art Supply has asked that our members park in the warehouse parking lot across the street from the main store, or in the periphery of the main parking lot, so that we don't interfere with customer parking. Please be sure to comply with this. They are being very generous in providing us with a meeting place, and we want to keep them happy!